A death, any death, disturbs the family flow, the dynamic, the daily pattern. Whether it is that much loved geriatric feline or that much loved geriatric Oma. It is a pebble in the smooth surface of the family pond. Love suddenly takes second place to the communication and subsequent social organisation death imposes on its survivors.
And so it is when your long held, dependable association with your cell phone comes to an unexpected and abrupt end. It's hurtful. How could they do this to you? Why in the middle of winter when it's cold and wet? Why now when you'll have to drive up that spindly piece of old rural road masquerading as a state highway?
For like any responsible survivor you'll want to ensure that before you bury them, they are well and truly dead. You do not want the ignominy that attaches to medical professionals who mis-pronounce a death. Who zip up the zip only to have undignified tapping, movement or, unanticipated communication, scare unmentionable bodily fluids from those adjacent to the body bag.
I don't venture out into the local internet land of desperate requests – hay for wet piglets, lost cats, lost dogs, errant cows and even more errant horses, unidentified vehicles having the temerity to drive slowly down a public road in "our district" (I wonder how often they've been writing about me).
I avoid publicly squirming my despair into the small gap between the missing fur babies and the request to swap garden plants but I have no hesitation in driving down to the local library to ask one of the incredibly knowledgeable human beings behind the desk where, as expected, I am given a credible and reliable potential source of diagnosis.
With the small, cold corpse ensconced in a plastic ziplock bag with its specific and unique charger I turn the nose of my now ancient car towards the bright lights and unbelievably awful and unending road works of Downtown Tauranga.
I successfully navigate SH2 (the road that pretends it's a highway). I don't even give the obligatory universal digit to the deranged driver who cannot read the 80 sign and thinks his new BMW 4WD would be able to do 110 if only I pull off the road and let him past. Fat chance fucker. After he roars past me through the Te Puna roundabout I wonder if his GPS is upside down and he thinks he's going to Cambridge.
I don't go downtown much any more. It isn't entirely my fear of Covid, or some ambitiously villainous new migratory strain of influenza. Who with their brain engaged into "Think" would voluntarily want to drive incredibly slowly and single file past temporary but long plastic walls? And/or run the risk of driving in a bus lane with a fine bigger than the alleged assets of a former president? Who would want to have to pay for parking or walk five hundred miles from any free parkable street not jammed nose to tail with the sparkly vehicles of bright young office workers trying to pay their weekly rent or mortgage?
The weather is so ghastly that there is a park on the road outside the Vinnies or more precisely, round the corner from the Vinnies. No St Enoch meetings today! And of course being sustainable requires sunshine or, if you're poor or, like me, use the Vinnies as "your shop" then most probably you don't want to be hoofing it around a cold and wet Tauranga.
The young man in the recommended centre of diagnosis is lovely. He first asks me to describe the observed symptoms. I will never feel the same way about half eaten apples again. The prognosis, like any health condition is not good. And, like any good professional used to dealing with death he conveys the sad news to me in a calm and pleasant manner – he's had to do this before.
I put the cell phone and its unique and specific charger back into the sad little zip lock bag and drive down to Pak'nSave the back way avoiding Cameron Road as if they've discovered it's the source of Monkey pox. I buy food for the wake – Chocolate Finger biscuits and a Bakeshack Chicken and Mushroom Pie.
As I sit in my car eating my delicious pie, like anyone who has suffered a close and personal loss, I grieve. Who or what will take my photos, record my YouTube videos, ping me all those unwanted 1am sub-continental text messages and ….. you get it, I'm devastated by my loss or my self-interest – you decide.
It's only now I regret not giving my phone a name – perhaps Idris or Imelda the iPhone. But like a newly minted widower my thoughts turn to filling the gap and my brain genetically turns to replacement. I'll need tea and at least four Chocolate Fingers to sort that out.
PS Took me six goes to spell ignominy…..so much for higher education. Yes, I know about Spell Check but that's no fun!
PPS Bakeshack pies are amazing and worth every penny. They are real pies.
PPPS Pak'nSave Chocolate Finger biscuits can solve any problem you may have particularly if you eat them in boarding school quantity.
PPPPS And for those of you who are disgusting enough to think such a thing, NO I did not drop my cell phone in a toilet. It died of old age or enforced obsolescence.
PPPPPS YES until I get a new phone you'll have to ring the landline or email me.
PPPPPPS YES if there is a power outage because of bad winter weather the wifi goes down and you can't ring and you can't email….it's called progress.
Good Night….
Rosemary Balu. Rosemary Balu is the founding and current Managing Editor of ARTbop. Rosemary has arts and law degrees from the University of Auckland. She has been a working lawyer and has participated in a wide variety of community activities where information gathering, submission writing, community advocacy and education have been involved. Interested in all forms of the arts since childhood Rosemary is focused on further developing and expanding multi-media ARTbop as the magazine for all the creative arts in the Bay of Plenty, New Zealand.
ARTbop
Suss: figuring the impact of social order
Nicol Sanders O'Shea | Lynette Fisher | Anne Shirley | Heidi Martin Douglas | Donna Dinsdale | Darcell Apelu
Whakāturanga Exhibition Gallery
9 July -14 August 2022
It is said that sustainability is about meeting our own needs without compromising the future generations to meet their own needs. This visual investigation plays with the notions of social imperatives within an intergenerational context with work crossing multi disciplinary lines to illuminate the way in which systemic issues surrounding social order can be expressed.
Whakaaturanga Exhibition Gallery
Suss: figuring the impact of social order
Darcell Apelu
Donna Dinsdale
Heidi Martin Douglas
Lynette Fisher
Nicol Sanders O'Shea
Anne Shirley
It is said that sustainability is about meeting our own needs without compromising the future generations to meet their own needs. This visual investigation plays with the notions of social imperatives within an intergenerational context. The work crosses multi-disciplinary lines to illuminate the way in which we address systemic issues surrounding social order.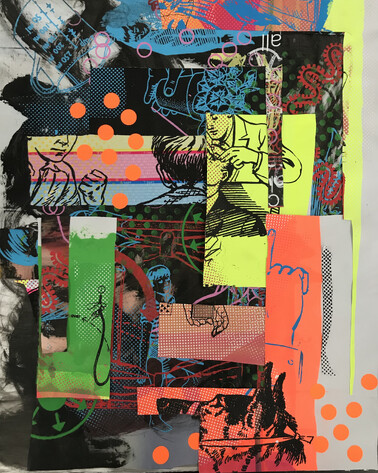 DARCELL APELU
Born and raised in Mount Maunganui, Tauranga, of Niuean and Pakeha descent, Darcell Apelu's practice explores perceptions of the Pacific body through identification within the social climate of New Zealand and the Pacific. This project presents the unsolicited commentary of the artists body from a range of men the artist engaged in dating. From the Apelu's experience contemporary dating is fraught with superficial and failed 'talking stages' where nothing eventuates beyond physical attraction. The overt statements made by these men reflect assumptions, desires and fantasies placed on women and in particular plus-sized women.
DONNA DINSDALE
Donna Dinsdale is an educator and practitioner specialising in fashion design. Her practice is driven by an interest in exploring how her individual bi-cultural sensibility can be expressed through textiles as cultural artefacts. Selecting ideas drawn from diverse cultural paradigms, there are numerous layers of exploration within her practice such as sustainability, personal identity, artistic authenticity and discussions around disruptive gender and social constructs.
HEIDI MARTIN DOUGLAS
Originally from California, Heidi Douglas moved to New Zealand in 2004 and settled in Mount Maunganui in 2005. This project is an ongoing photographic reportage of her relationship with the land. This iteration of the project looks explicitly at the reparation of the indigenous environments on Mauao/Mount Maunganui. It explores how lens-based images can establish a deeper reflective relationship between humans and the maunga, thereby facilitating the decolonising processes in relation to the land.
LYNETTE FISHER
Lynette Fisher's dark, emotional work describes childhood scenes, investigating the hierarchies and societal behaviours constructed within the socio-cultural group of the family. Elements of existing imagery are taken and recontextualised – citing contemporary themes of adoption, ownership, guardianship and appropriation.
ANNE SHIRLEY
Anne Shirley's visual practice is concerned with power and legitimacy, shifting between the illumination of family photographs within light-box containers and the disruption of contextual data. Specific photographs present as authorial: they are redrawn with physical contexts partially removed. The work is bound in intimacy through a performative gesture rather than the indexical sign, pushing between the social redundancy of photographic material and the ontology of personal affection.
NICOL SANDERS-O'SHEA
Nicol Sanders-O'Shea presents a print installation of screen-printed artworks using current found imagery and outdated resources found in girls and boys annuals, health & safety manuals and how to guides. The appropriated imagery mixed with patterns and structures create a sense of disorder and disruption. Past and present found imagery are used to reference socio economic issues in Aotearoa New Zealand.