When it happens, it all happens at once. This weekend in and around Tauranga and the Western Bay of Plenty it's all go, go, go with events, performance and festivals – even more so than usual. We are focusing on just a few here.
St George's Anglican Church, Gate Pa Friday night fundraiser



Buy Tickets

St George's Anglican Church, Tauranga, Bay of Plenty The Anglican Parish of Gate Pa bring you an entertaining evening with Stephen and Tommy (Kapai) Wilson. There will be stories, a cooking… Read More Friday night at 6.30pm-9.30pm the irrepressible Wilson Brothers, Stephen and Tommy, are hosting a fundraising evening at the St Georges Anglican Church, Gate Pa. Tickets are $45 each. Stephen is the Chef and Tommy is an author, journalist, raconteur and social justice administrator. Food music and laughs and for an excellent cause. This established church community and parish with its beautiful old wooden church has an important role in the Tauranga South community.
MULTICULTURAL FESTIVAL AT THE HISTORIC VILLAGE You'll need your own personal drone to get from festival to festival on Saturday the 16th. The annual Multicultural Festival rocks the Historic Village on Saturday 16th at 10am $5. if you're over 12 years old. I've been to this festival before – you'll be amazed at the ethnic diversity of our community, the buzz and the vibe and the wonderful food and performances. Only thing to note – can be parking issues at the Historic Village when there are events. If you can park in the side streets and walk down the hill, all good. Or, check to see the bus times.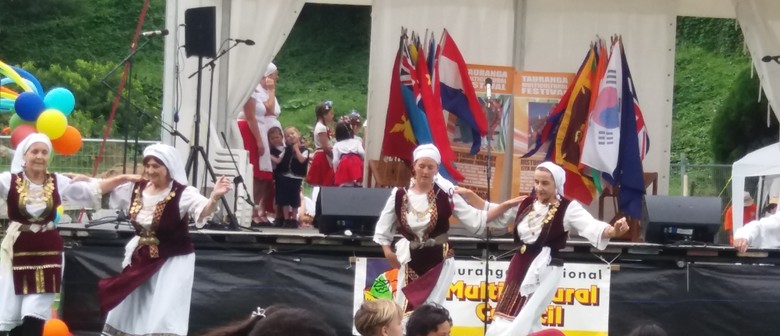 The 20th Tauranga Multicultural festival is run to celebrate the Race Relations Day which is on 21st March every year.
This year's motto is:
Our people, our cultures, our languages
O tātou iwi, ō tātou ahurea, ō tātou reo
The festival will be opened by a kapahaka group. Food stalls from many countries run by local ethnic groups cooking authentic food that way it was done in their homes in their countries of origin, also some coffee carts, candy floss and ice creams trucks. A large area for children activities –bouncy castle, pony rides and a competition for children to name flags of countries. Art and crafts and Service Provider sections.
GREERTON VILLAGE FAYRE Also on Saturday 16th is the Greerton Village Fayre in the Greerton Village School grounds in the heart of the village. I haven't been going over to Greerton for a while – they changed the roading systems and it just became too difficult and time-consuming. So, if you can catch the bus or park away from the school and walk – do it!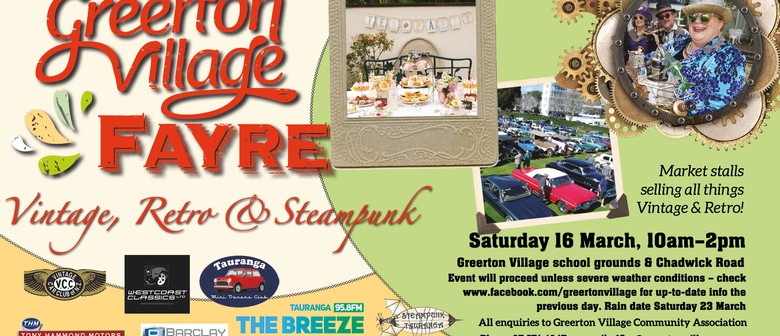 Join us at our 3rd annual Fayre in Greerton Village showing off all things Vintage & Retro – with a bit of Steampunk thrown in. Vintage, classic, Retro and fun vehicles on display in Chadwick Road between Greerton Road and Cameron Road. Trophies in the American, Japanese, British and Australian categories – as well as the Peoples Choice award and Trophy. The Whittakers playing live on the Rotunda in the school grounds from 10am. Best Dressed Ladies and Gents competition on the Rotunda at 12 noon followed by a parade from the Steampunk crew – prizes up for grabs. Roving street entertainers. The Breeze Radio station on site with The wishing Tree. Stalls selling all things Vintage & Retro in the school grounds and Tea Pot racing – come along and have a go – in the school car park with Steampunk. More information on
facebook.com/greertonvillage
Out in the rural hinterland it's school fair time. The annual Te Puna Country Fair is an "event" for the surrounding districts and visiting townies!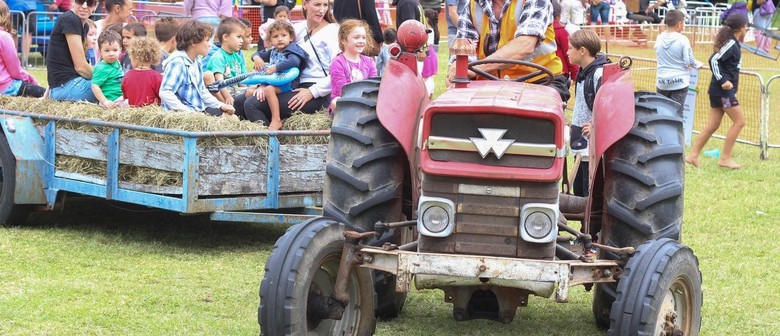 It will be jam-packed with fun activities for young and old, flavour-filled food and stalls for all. This is the kind of event that children remember all their lives. Hope you can get there!
WHAKAMARAMA HARVEST FESTIVAL 2.00pm to 5.00pm at the Whakamarama District Hall/Community Centre This is a real, rural New Zealand event redolent of 1950's past-times down at the hall. Look at the prize categories: Craziest shaped produce, Best carved produce, Biggest produce, Creative Produce display, Best Sweet preserve, Best Savoury preserve, Harvest themed photo competition, Guess the Jar. So twin-set and pearls it's something you just should not miss. You can have afternoon tea and buy produce and products from local growers and producers. It's not the biggest of events but if you want to see real New Zealand a short-drive from downtown Tauranga, you need to come along to the Whakamarama Hall on Saturday afternoon – entry is free. And you could take a walk around some of the rural roads while you're up in Whakamarama. Just remember to keep well to the side of the road – there are vehicles using the roads at all times. You may meet cyclists, and horses and you might just meet some people you haven't met before. You could also enjoy a walk in the ancient remnant bush of the Puketoki Reserve just a bit further up the road from the Hall on Leyland Road. There are two walks – one long and one short. Don't miss this opportunity to enjoy a slice of country life in wonderful Whakamarama one of the rural jewels of the Western Bay of Plenty.

Rosemary Balu.
Rosemary Balu is the founding and current Managing Editor of ARTbop. Rosemary has arts and law degrees from the University of Auckland. She has been a working lawyer and has participated in a wide variety of community activities where information gathering, submission writing, community advocacy and education have been involved. Interested in all forms of the arts since childhood Rosemary is focused on further developing and expanding multi-media ARTbop as the magazine for all the creative arts in the Bay of Plenty, New Zealand.
You may enjoy reading about a talented and creative Whakamarama local in the first of the series Invisibility Disdained:
And "over the Kaimai" the exhibition of the creative group Artnexus at the Wallace Gallery Morrinsville
CHECK OUT the ARTbop facebook pages where we share an eclectic range of cultural, environmental and socio-political posts from the local and international creative communities.
AND IF YOU ENJOY CREATIVITY, BOUTIQUE SHOPPING, VINTAGE, RECYCLE, HOME DECOR, CAKE & JUST HAVING A LOOK check out THE CORNER SHOP NZ on facebook.
ARTbop promotes
(or we think you should check this out!)
MOLLY MORPETH CANADAY AWARD, Whakatane
Winners of the 2019 Molly Morpeth Canaday Award – John Brown, Teresa HR Lane, Danae Ripley, Lea-Anne Sheather, Esther Deans, Raewyn Martin, Adrienne Millwood, Kirsten Ferguson, Nicola McCafferty, Toby George King, Sena Park, and Mary Duggan.
Read all about the award results below, and please come along to see the exhibition in person at Te Kōputu a te whanga a Toi – Whakatāne Library and Exhibition Centre if you are able. Open 9am-5pm on weekdays, and 10am-2pm on weekends.
Remember – you can also help to select a winner – vote for the People's Choice Award at the gallery!
With our exhibition partners, Arts Whakatāne and Whakatane Museum and Arts.
#Whakatane #MMCA #PaintingandDrawing #NZArtAward
TAURANGA ART GALLERY
Mega World The Expansive Universe of Illustration 23 February – 7 July 2019
Explore the expansive universe of illustration with the Tauranga Art Gallery's signature 2019 show,
Mega World
. You'll be transported to unknown landscapes populated by strange creatures and unlikely heroes.
Shown across all five exhibition spaces you'll experience contemporary illustration in its many forms. From picture books and comics, the sophisticated realms of science fiction and the graphic novel to the more avant-garde work of underground illustration, animation and contemporary art.
While illustration covers many genres, its essential premise is that it is the visual manifestation of a text, concept or process rendered in a way that captures the imagination and gives form to the intangible.
THE CARLTON GALLERY AT THE ARTS JUNCTION, KATI KATI
Exhibitions change regularly in the Carlton Gallery and the Gallery is available to be hired for your show of work. (if you're interested in exhibiting contact details are below) The Arts Junction is open Monday to Friday 9am to 4pm and 10am to 2pm Saturdays and Sundays. Located at 36 Main Road, Kati Kati (next to the Western Bay of Plenty Museum) Phone 549 5250 or email jacqui@katchkatikati.org.nz https://www.facebook.com/TheArtsJunction/
CURRENTLY SHOWING AT THE CARLTON GALLERY:

Tauranga Porcelain Artists are presenting an Exhibition of their style of Art. There will be displays of Traditional work as well as more Modern Designs.

From 3698 competition entries, the 20 winning images are now showcased in the third annual Trustpower Photographic Exhibition! Come and see the breathtaking winning images, presented on large-scale display boards in the Bay's largest outdoor photographic exhibition. It's on right now on The Strand, in Downtown Tauranga until 14 April 2019
ATRIUM GALLERY AT THE BLACK SHEEP, WHAKAMARAMA
Developed as a community gallery and retail space with lots of hard work and effort by local creatives, the Atrium Gallery is open 11am to 5pm Wednesday to Sunday, closed Monday and Tuesday. https://www.facebook.com/atriumgallerynz

If you have information about an upcoming arts event, exhibition or arts news you can contact ARTbop at info@artbop.co.nz
ARTbop
the Bay of Plenty's creative arts magazine!
read us online anywhere, anytime!