Last Legs,

Roger Hall's latest play, proves his ongoing competence at light entertainment. In the "Cambridge" Retirement Home, his flawed, recognisable characters interact with results ranging from mawkish to hilarious. On the night I attended, an almost full house responded with increasing engagement and much laughter.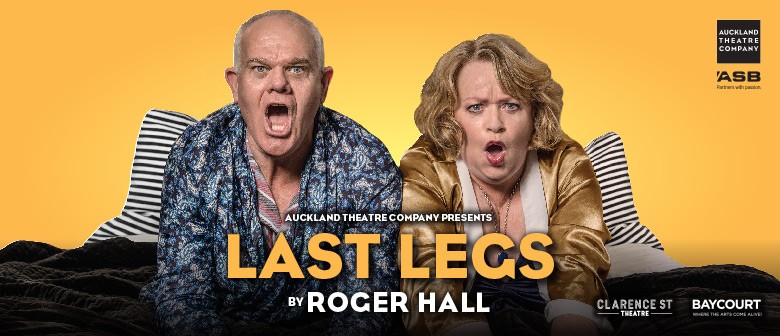 The action is carried by a competent cast. Mark Hadlow as a former real estate agent and chair of the Residents' Committee was prominent but every member of the cast gave handsome performances. Alison McGuigan, the activist, developed some surprising tender moments. Ray Henwood, a retired academic, delivers his lines with nuance and moves with impeccable timing. Catherine Wilkin purrs in the Kitty role. Louise Wallace's character Trish seemed increasingly disappointed. Margaret-Mary Hollins developed the Helena character with poignant effect.
With a Retirement Home profile in this play of four women to two men, particularly in a light comedy, there is bound to be sexual interest, and this play doesn't disappoint. But sombre notes are struck too. The characters notice a hearse pulling up on more than one occasion. The four women have alternate roles as very elderly women, meeting to play board games or cards. The development of this group proves one of the most deft commentaries on the ultimate reality underpinning (yes, a pun) the title Last Legs. And the comic opportunities in those elderly characters are seized, and conveyed with power. The audience loved those characters.
Two production features deserve mention. The set design suggested a chess board with only one white square lit, and a pawn isolated on a square up the wall. Music from the 1960's (remember Bert Kaempfert's Swinging Safari, for example?) situates the memories of some residents. Sympathetic set design and music contributed positively to the production.
The target audience may be those above 50 but this is reliable entertainment for anyone who can be pleased by the work of a seasoned writer with a highly professional cast. An enjoyable night out, and an opportunity to think about how the traits we exhibit during our active lives continue to dog us when we are on our last legs.

John Adams is an Auckland writer, author of Briefcase (AUP, 2011), winner of the Jessie Mackay Prize for Best First Poetry Book published in 2011, and the Elbow Stories (Steele Roberts, 2013). John has recently published Rumpelstiltskin Blues a second volume of poetry John's band "Don't Judge Me" (a sextet) plays original compositions, song and spoken word. "Don't Judge Me" is available to play at private and public functions. John Adams can be contacted at yellowskip@xtra.co.nz
John's review of the Tauranga Writer's 2016 anthology Byline can be found in the WORDS archive
Last Legs – Tauranga Season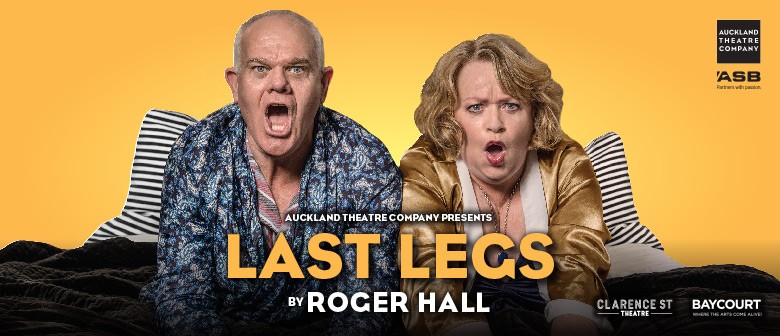 Auckland Theatre Company proudly presents Roger Hall's smash hit Last Legs – a lethally funny black comedy about sex, death and politics with an irresistible appeal to the old and bold of heart. When news that Bill English is to open a new wing of the Cambridge Retirement Village, a revolution is sparked among its residents. Though many want to turn on something special, others are less enthused and plan to stage a protest. Soon, new fractures appear along old fault lines, transforming the swanky facility into a hotbed of insurrection, intrigue and infidelity. After a lifetime of smash hits including Glide Time, The Book Club and Taking Off, New Zealand's most popular playwright, Roger Hall, is back with a (cardio) arresting comedy packed with hypertensive hilarity.
Starring: Louise Wallace (The Real Housewives of Auckland), Mark Hadlow, Alison Quigan, Ray Henwood, Margaret Mary Hollins and Catherine Wilkin
Currently showing at the ASB Waterfront Theatre, CBD, Auckland – ON NOW!

AND WHILE YOU'RE IN THE BAY OF PLENTY


'FRIENDS' EXHIBITION" in conjunction with the NZ Mural & Arts Festival Katikati

The exhibition will be held at Harry Maddox Jewellers, 18 Main Road, Katikati, where there is a modern gallery space.

It will be open Saturday 30th Sept – Saturday 7th Oct

Sat & Sun 9:00 – 4:00, Mon – Fri 9:00 – 4:30

One of the artists will be available for a chat Sat 30th, Sun 1st, Thurs 5th, Fri 6th, and Sat 7th, from 10:00 – 4:00. We look forward to seeing you there.

Check out Birgitt's article about what's coming up in the NZ Mural Contest http://artbop.co.nz/nz-mural-contest-arts-festival-katikati/

What: Funkadelic Monks & Lounge Apes

Where: Totara St

When: Saturday, September 30th

and check out the uPflash in ARTbop alternative!

2017 Rotorua Museum Art Awards Exhibition of Finalists Judges Selection of Works

Until: Friday, 6 October 2017
Venue: Sir Howard Morrison Performing Arts CentreTime: 10am – 4pm

Price: Free entry

Highlighting the exceptional talent of artists throughout the Bay of Plenty, this exhibition will showcase winners and finalists from the 2017 Rotorua Museum Art Awards.

Kereama Taepa has won out over 148 other entries from across the Bay of Plenty to take out the $10,000 Rotorua Museum Supreme Art Award with his work Bicultural Dialogue I. Judge Emma Bugden said what set this work apart for her was its simplicity; superbly executed, smart and funny which drew her in and held her attention.

"While the sculpture tackles big subjects—the complexity of cultural identity and the changing nature of craft in a digital era—it does it with cheek and humour. The legacy of tradition is seen through a contemporary lens, simultaneously throwing light on the past and the future."

The $1,000 Toi Ohomai Innovation in Art Award went to Jill Fleming for her work Ascension and Cheyenne Rose was named as Friends of Rotorua Museum Emerging Artist for her work Legs.

The Rotorua Museum Art Awards Exhibition of Finalists 2017 displays these three award winning works alongside 45 specially selected entries at Sir Howard Morrison Performing Arts Centre until 6 October 2017.

While the exhibition is on display people can vote for their favourite artwork either in the gallery or via the Rotorua Museum Facebook page. This year the More FM People's Choice Award will offer $500 to the artist whose work receives the most public votes in the gallery and $500 for the work with the most online votes by the end of the exhibition (6 October 2017).

Entry to the exhibition at Sir Howard Morrison Performing Arts Centre is free and will be open daily between 10am – 4pm from 9 September until 6 October 2017.

For the first time this year Rotorua Museum will be displaying works that were not chosen for the finalist exhibition in a Salon des Refusés. This exhibition will be hosted at Rotorua Library (1238 Pukuatua Street, Rotorua) from 14 September until 7 October 2017 (during normal library opening hours).

All artworks from both exhibitions will be on sale to the public throughout the exhibition period.

For further information please contact Rotorua Museum, phone 07 350 1814 or email rotorua.museum@rotorualc.nz AND…