In addition to the articles we wrote about Justus Rozemond and the Youth Philharmonic Tauranga, we promised a portfolio of images taken by ARTbop photographer Lee Switzer during Rozemond's interview with ARTbop's Rosemary Balu at Le Chat Noir cafe, Greerton, Tauranga.
Rozemond is the Conductor of both the Bay of Plenty Symphonia and the Youth Philharmonic Tauranga – they are separate and contained orchestral entities. And now here are the engaging and diverse images of Justus Rozemond captured in conversation…..
ARTbop and Lee Switzer thank Justus Rozemond for his time and co-operation in creating this portfolio of images. The images have been selected for publication by the photographer, Lee Switzer.
Lee Switzer: Lee is a regular contributor to ARTbop – photo essays, articles and poetry. Lee is multi-talented producing sought-after images of local artists and exhibitions. He has been an archival photographer around Tauranga and the Bay of Plenty for some years – the details of this body of work are below. You can find examples of Lee's contributions in our ARTbop WORDS archive. And watch this space – we've just received another contribution in Lee's series of short stories – Chance Encounters – coming soon.
More photos by Lee Switzer
at http://tauranga.kete.net.nz/en/tauranga_city_libraries_history/topics/show/2538-article-index-lee-switzer
YOU CAN SEE ROZEMOND IN ACTION THIS SUNDAY
3RD SEPTEMBER 2017
Sunday 3rd September 2017, 3:30pm at Graham Young Youth Theatre, Tauranga Boys' College
Duration 2 hours approx.

This Sunday 3rd September 2017 at 3.30pm at the Graham Young Theatre, Tauranga Boys' College, Justus will have under the baton the finalists in the BOP Symphonia's Rising Stars Competition. The Symphonia website says:-
"The finals concert of our popular biennial competitions for talented secondary school level performers and composers. The concert will feature performances by the six finalists in the Rising Stars Concerto Competition. The orchestra will also perform the winning Rising Stars composition.
The concert will conclude with the presentation of prizes by the Mayor of Tauranga, Mr Greg Brownless.
Our performers
Rosa Hook (Rotorua): Wieniawski's Violin Concerto no. 2
Loredana Kint (Tauranga): Mozart's Flute Concerto no. 2
Elliott Lee (Tauranga): David's Concertino for Trombone
Mei Hei Luk (Tauranga): Chopin's Piano Concerto no. 1
Leo Read (Taneatua): Bourgeois's Concerto for Trombone
James Robinson (Tauranga): Haydn's Trumpet Concerto
Shamus Baker from Rotorua is the winner of this year's Rising Stars Composition Competition. The orchestra will perform his piece 'Skylines'.
While the adjudicators consider their verdict, the audience will be entertained by pianist Soomin Kim, winner of the 2015 Rising Stars Concerto Competition.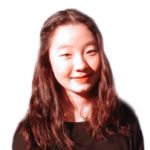 Sunday 3rd September 2017, 3:30pm at Graham Young Youth Theatre, Tauranga Boys' College
Duration 2 hours approx.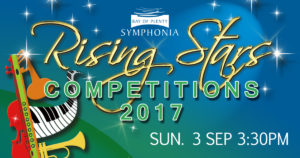 If you would like to submit a contribution to ARTbop you can forward your submission to info@artbop.co.nz as a text document. Images are to be forwarded as low resolution jpgs (about 750 kb maximum) not included in the body of the article. However, please indicate in your text where each image is to appear and indicate the image you would prefer as the featured slider header.
ARTbop's policy is to publish original content. If your contribution has been published elsewhere please indicate the publication and the date of publication. If your submission contains the work of others please provide accurate attributions.
ARTbop is aware of its obligation to maintain freedom of speech and creativity but ARTbop retains the right not to publish any submission and to edit where content is perceived by ARTbop to be factually wrong, unnecessarily malicious, defamatory or hate speech.