Fred Graham is a New Zealand creative icon whose work is an integral part of our landscape. Of Tainui and Ngati Koroki Kahukura descent Graham qualifies for that title "living legend".
Ko Waikato tona rohe. Ko te Tainui raua Ngati Koroki Kahukura ona iwi. Ko Fred Graham tona ingoa.
In 2014 I wrote a book review for ARTbop about the Maria de Jong and Fred Graham work "Fred Graham Creator of Forms Te Tohunga Auaha. I recounted that I had met Fred when I sat next to him at a Tauranga Art Gallery exhibition opening. I prefer to sit on the end of the front row if I want to see something or on the end of the row at the back if I think I might want to escape. On this occasion I was up the front on the end with an "elderly" gentleman sitting next to me. We chatted while we waited for the exhibition opening to start and he eventually asked if we could change places as "he had to say a few words". No drama. We kept talking and it was only when someone from the Gallery came up to welcome him that I became aware that the pleasant conversationalist next to me was Fred Graham. What I didn't include in the book review was that the gallery staffer assumed that I must be "Mrs Graham" and indicated that to Fred and I. Fred and I cracked up.
In 2014 Fred spoke with Lynn Freeman of Radio New Zealand: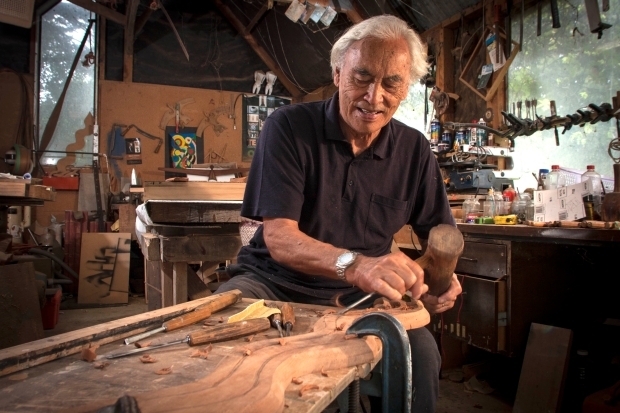 Fred Graham working in his Waiuku studio. Photograph: Geoff Dale.
Sculptor Fred Graham started the Maori Contemporary Art movement in the 1960s along with his friends and colleagues Sir Cliff Whiting, Ralph Hotere, Selwyn Muru and Sandy Adsett. Fred dropped by to talk with Lynn Freeman about his life and work"
https://www.rnz.co.nz/national/programmes/standing-room-only/audio/20161022/sculptor-fred-graham
I could find very little about this New Zealand master creative on YouTube so much of this article is a collage of links. I wanted to focus on Fred Graham this morning, the first Sunday of our isolation, so you know what you must go and see when this hiatus has ended. This CreativeNZ video will give you an insight.
When I read the words of Fred's August 2017 conversation with Te Aniwa Hurihanganui of Te Manu Korohi I thought "this is the man I sat next to". It was titled "Follow your Heart".
"Former Māori All Black Fred Graham, 88, has celebrated yet another milestone, winning the supreme award at this year's Te Waka Toi Awards.
Mr Graham's work spans five decades and his art, which explores contemporary Māori issues, is displayed in prominent spaces around the country, including the High Court in Auckland and the National Archives Building in Wellington.
He said receiving the Te Tohu Aroha mō Te Arikinui Dame Te Atairangikaahu award this week was an honour.
"I enjoyed the moment, it feels good. But it's the old story – today's headline and tomorrow's fish 'n' chip wrappers."
While his artistic talent came from his father's side of the family, it was never his intention to become an artist.
"In those days, you'd get the old 'okay son, cut your hair, what are you gonna do for a living'.
"Back in the 40s it was all about rugby and sport. It wasn't recommended that you should take up art as a career."
But Mr Graham did anyway, and went to teachers' college, where he was offered a third-year specialisation in art.
He became a key figure in the Māori contemporary art movement alongside other champion artists including Muru Walters and Selwyn Wilson.
"In the 40s, just after the war, Māori art was traditional art – carving and that kind of thing.
"But for the first time a lot of Māori had gone to teachers' college and the ideas around that time were changing. As young students, we wanted to follow our own path rather than follow the traditional path."
One currently emerging artist, Chevron Te Whetumatarau-Hasset, won the award recognising achievement by a young Māori artist at the Te Waka Toi Awards.
His love for art and photography first grew at Taita College in Lower Hutt, but he said the low-decile school made it difficult for him to access the resources and materials he needed to become the photographer he always dreamed of.
"There weren't many options growing up in my neighbourhood for young people to follow their dreams unless they wanted to become a sports star.
"Everyone around me was getting into the wrong things, and that wasn't me. I was the first one that I know out of my whole community and in my whole school to go to university at Massey."
He said art was about survival – it kept him alive and allowed him to express the views of people from his community to the world.
"That drive is really big because my art is more than just me – I carry a lot of people with me. It just so happened that photography was the tool that got me there.
"Having a fight in you is greater than anything. I can have talent but that only goes so far – that drive is everything."
Mr Graham has some advice for young emerging Māori artists like Chevron.
"You just follow your heart, you keep on going, you're going to get a few knocks but really – you have to follow your dreams."
Mr Graham said he did not plan on giving up art anytime soon.
"I think growing old happily is using your brain constantly rather than sitting round watching TV. I think as long as your brain is occupied – that's the secret of growing old."
Mr Graham's work has been recognised internationally with displays at the Burke Museum in Seattle, Washington and Port Alberni in British Columbia, where he carved 'Eagle with a Salmon' as part of the International Carvers Exchange in 1986."
https://www.rnz.co.nz/national/programmes/saturday/audio/2018644629/fred-graham-arts-icon
Fred Graham's work is incorporated in the current Auckland City Art Gallery which also holds examples of his sculpture and his painting.
https://www.aucklandartgallery.com/explore-art-and-ideas/artist/2279/fred-graham
You'll also find his work "Manu Torino"in the Auckland Botanic Gardens in Manurewa and works around Auckland and other centres
https://www.stuff.co.nz/manawatu-standard/news/98164782/notable-fred-graham-sculpture-purchased-by-palmerston-north
https://discover.stqry.com/v/kaupapa-maori/s/30951119-0f55-4a45-be84-428a41bd8125
Fred said he believed his talent had come from his father's family. He has passed that on to his son Brett Graham.
https://govettbrewster.com/news/2018/11/dr-brett-graham-in-taranaki-as-govett-brewster-art
Fred Graham was born in 1928 – he has used his many years creatively and "followed his heart".
The content of this article has generally been sourced from what is available online. I wrote my book review in 2014 with a book I borrowed from one of our Tauranga City Libraries.
Rosemary Balu. Rosemary Balu is the founding and current Managing Editor of ARTbop. Rosemary has arts and law degrees from the University of Auckland. She has been a working lawyer and has participated in a wide variety of community activities where information gathering, submission writing, community advocacy and education have been involved. Interested in all forms of the arts since childhood Rosemary is focused on further developing and expanding multi-media ARTbop as the magazine for all the creative arts in the Bay of Plenty, New Zealand.
ARTbop
the Bay of Plenty's creative arts magazine!
read us online anywhere, anytime!
ARTbop https://www.facebook.com/artbop/
ARTbop alternative https://www.facebook.com/ARTbopalternative/
AND IF YOU ENJOY CREATIVITY, BOUTIQUE SHOPPING, VINTAGE, RECYCLE, HOME DECOR, FAIRS & MARKETS, CAKE & JUST HAVING A LOOK check out
The Corner Shop NZ
As many of the traditional haunts of The Corner Shop NZ may be closed at the moment we will share with you interesting and amazing stuff we have found online, the progress of the property up here in Whakamarama and of course some more of the eclectic range of the vintage, collectable and just plain weird we have in our shop. We hope you all stay safe and well and we'll see you in one of our favourite cafes (with cake) soon!
Just published on The Corner Shop NZ facebook page a two part rural mail box washing demonstration – enjoy
Cleaning a rural mailbox in Whakamarama: This is a series – well it's a two part video and this is Part I. For most of my life i have lived in rural New Zealand or on the fringe of a rural area. Someone suggested that our rural mail letterboxes are sanitised. So Redbands (gumboots) on down I went to ensure the life and happiness of our rural mailmen. Enjoy and wherever you are in the world and whether I'm related to you or share some microscopic amount of DNA or shared relatives appear on our genealogy charts…be safe, be well and enjoy tomorrow's sunrise.
Part II of the two part series "Washing my letterbox in Whakamarama" Make sure you check out Part I and Fred Dagg – the inimitable John Clarke and do not miss finding out more about Wal and Dog of Footrot Flats.
WANTING TO SEE MORE OF NEW ZEALAND & THE BAY OF PLENTY?
ENJOY THE ARTS, CREATIVITY, BOUTIQUE SHOPPING, GARDENS, VINTAGE, A WALK IN THE BUSH AND CAKE?
WHILE THE WORLD FACES THE CURRENT HEALTH CRISIS NZ Must See will bring New Zealand to you through its facebook page so you can visit us without leaving your home.
NZ MUST SEE
You will enjoy this walk through of Te Whetu Marae at Welcome Bay, Tauranga, Bay of Plenty Aotearoa, NZ
AND WHERE EVER YOU ARE AROUND THE BAY OF PLENTY
BE SAFE AND HAPPY AND ENJOY!